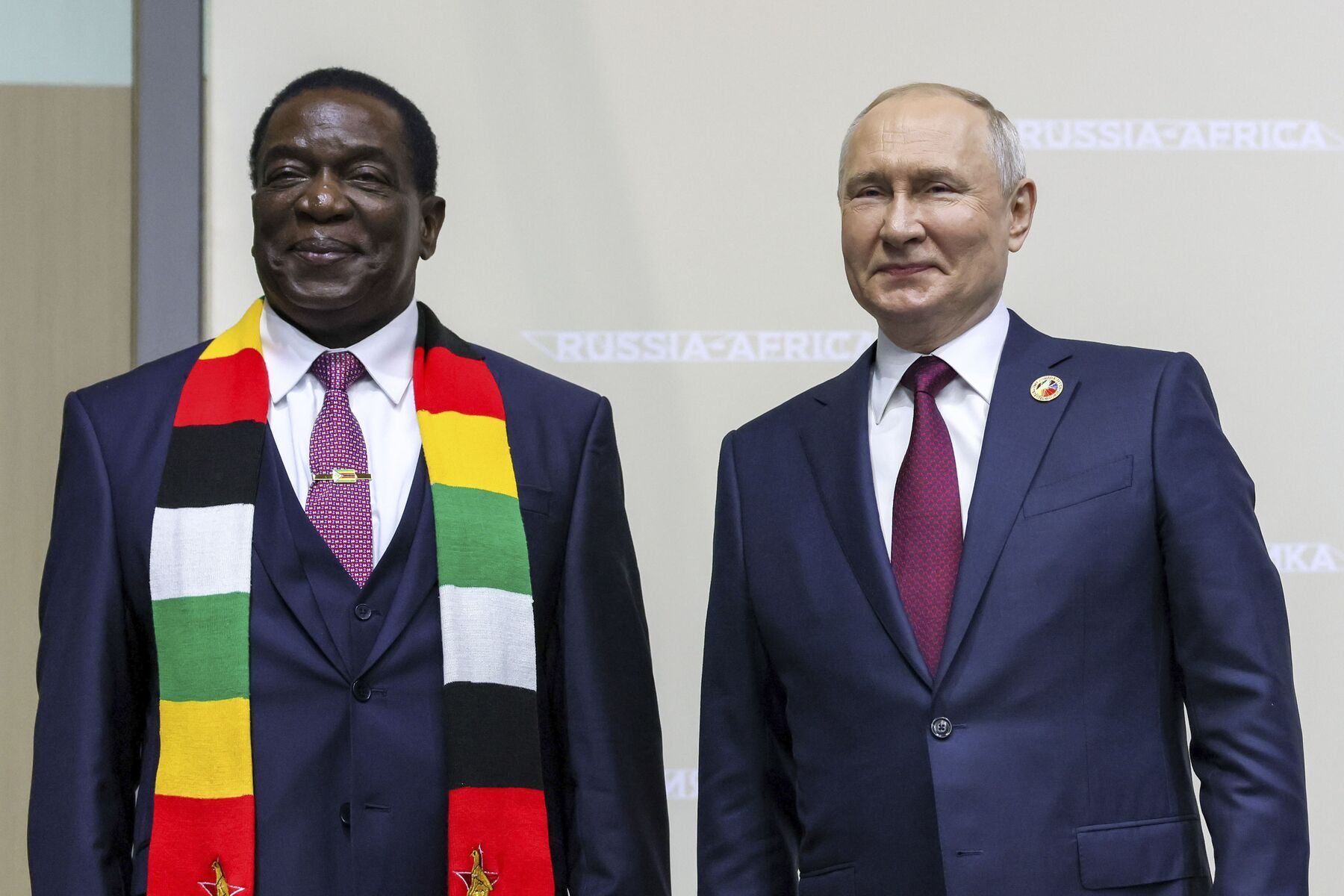 Emmerson Dambudzo Mnangagwa with Putin
EIR

LEAD

EDITORIAL

FOR

FRIDAY

SEPTEMBER

22, 2023

Sept. 21, 2023 (EIRNS)—Three African leaders, who together had attended the July 27-28 Russia-Africa Summit in St. Petersburg, addressed the United Nations General Assembly today. Certainly they found colonialism to be oppressive and destructive, but all three were not punching from below.

Zimbabwe's President Emmerson Dambudzo Mnangagwa strongly condemned "tendencies by some powerful countries who preach peace, human rights and democracy and yet clandestinely fund conflicts and the unconstitutional changes of governments, for their own narrow interests." Central African Republic President Faustin-Archange Touadéra demanded to know "how to accelerate implementation of the Agenda 2030 on behalf of peace, prosperity, progress and the sustainability for all, when certain states, from the height of their political, economic and military power, constantly stir up coercive diplomacy or utilize international financial institutions for the purpose of imposing economic, financial and commercial blockades against countries rendered poor by slavery, colonization and imperialism?"

But Burundi's President Évariste Ndayishimiye posed a way out for the bankrupt West. On July 28, at St. Petersburg, he had explained to TASS: "I would never call Africa poor, this is a common delusion. On the contrary, it is a very rich continent." African states should therefore "contribute to the development of all humanity."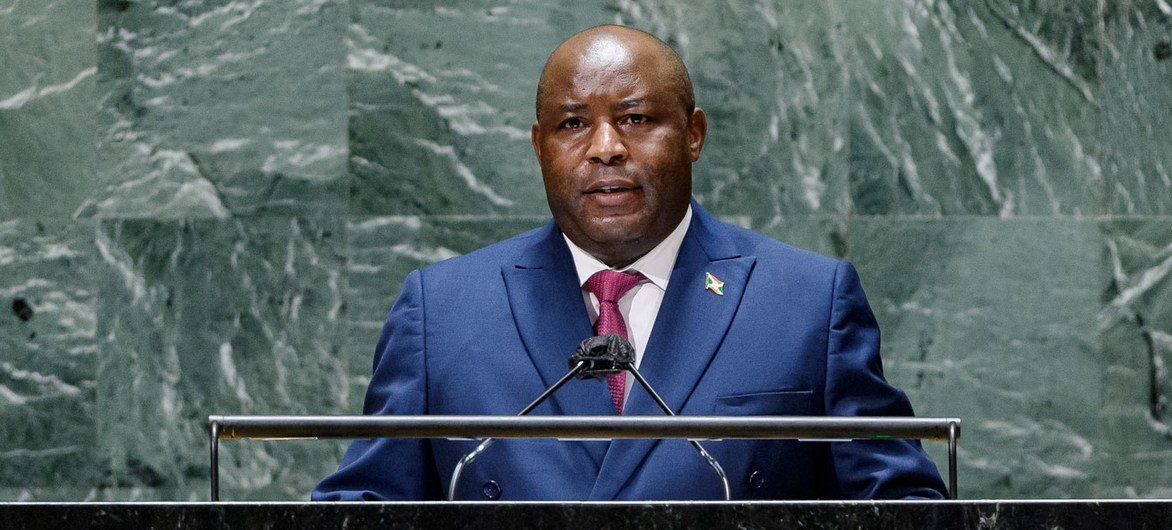 UN Photo/Loey Felipe
President Evariste Ndayishimiye of Burundi addresses the general debate of the
UN

General Assembly's 76th session.
Kirundi Proverb @ 8:08
One might think that the good President was punching above his weight. And, indeed, Burundi is a small, landlocked, poor country in Africa with only 11% of its population having access to electricity. He certainly is not oblivious to what neocolonialism has done in ravaging his country and his continent. Today he described it in terms of the interference in the internal affairs of nations, the unfair remuneration of raw materials, and the unfair conditionalities of Bretton Woods financial institutions, the IMF and World Bank. But he also explained a Kirundi saying video timestamp: 8:08, "ntawutungira mu boro"—meaning, "prosperity is only lasting if it is shared." This "reminds us that investing in the prosperity of your neighbor truly guarantees the security and sustainability of your own progress." Thus, the offer is on the table from the wealthy Global South to the panicky, financially and morally bankrupt nations of the elite West: We don't hate you for your selfish, destructive colonialism, because it is time for lasting prosperity.
We don't hate you for your selfish, destructive colonialism, because it is time for lasting prosperity.
Otherwise, there's evidence that the geopolitical game is on its last legs. Poland told Ukraine that no more weapons would be arriving and the U.S. House of Representatives Speaker told President Volodymyr Zelenskyy that he would not be addressing that body today. It should not be missed that Sen. J.D. Vance of Ohio called out the thuggish, thought control operation in which the Big Brother thought-police liquidate those whom they designate as "information agents."
Vance's letter to U.S. Secretary of State Antony Blinken, Defense Secretary Lloyd Austin, and Director of National Intelligence Avril Haines, asking whether the U.S. was funding such operations, was long overdue but very welcome: "I worry American resources could be supporting violence or the threat of violence against people for speaking their mind…. [A]ny critic of America's incoherent policy in Ukraine has been slandered as a propagandist, including multiple presidential candidates and American journalists."
The declared policy of Kiev's Center for Countering Disinformation (CCD) has been, for more than a year now, that "Russian propagandists"—that is, any persons anywhere in the world who write or speak critically of the policy to break Russia, to extend NATO, to fight to the last Ukrainian, etc.—are to be designated as "disinformation warriors' or "information agents" and treated as an enemy warrior to be neutralized. The CCD, an operation of Ukraine's National Security and Defense Council (NSDC), compiles a list of such persons for Ukraine's security services to act upon.
The world cannot think its way out of a wet paper bag in such fear-induced passivity. The leaders in the Global South, or the Global Majority, are on the move. Blessed are the meek, for they shall inherit the Earth—and they might save a bunch of panicky Western nations in the process.