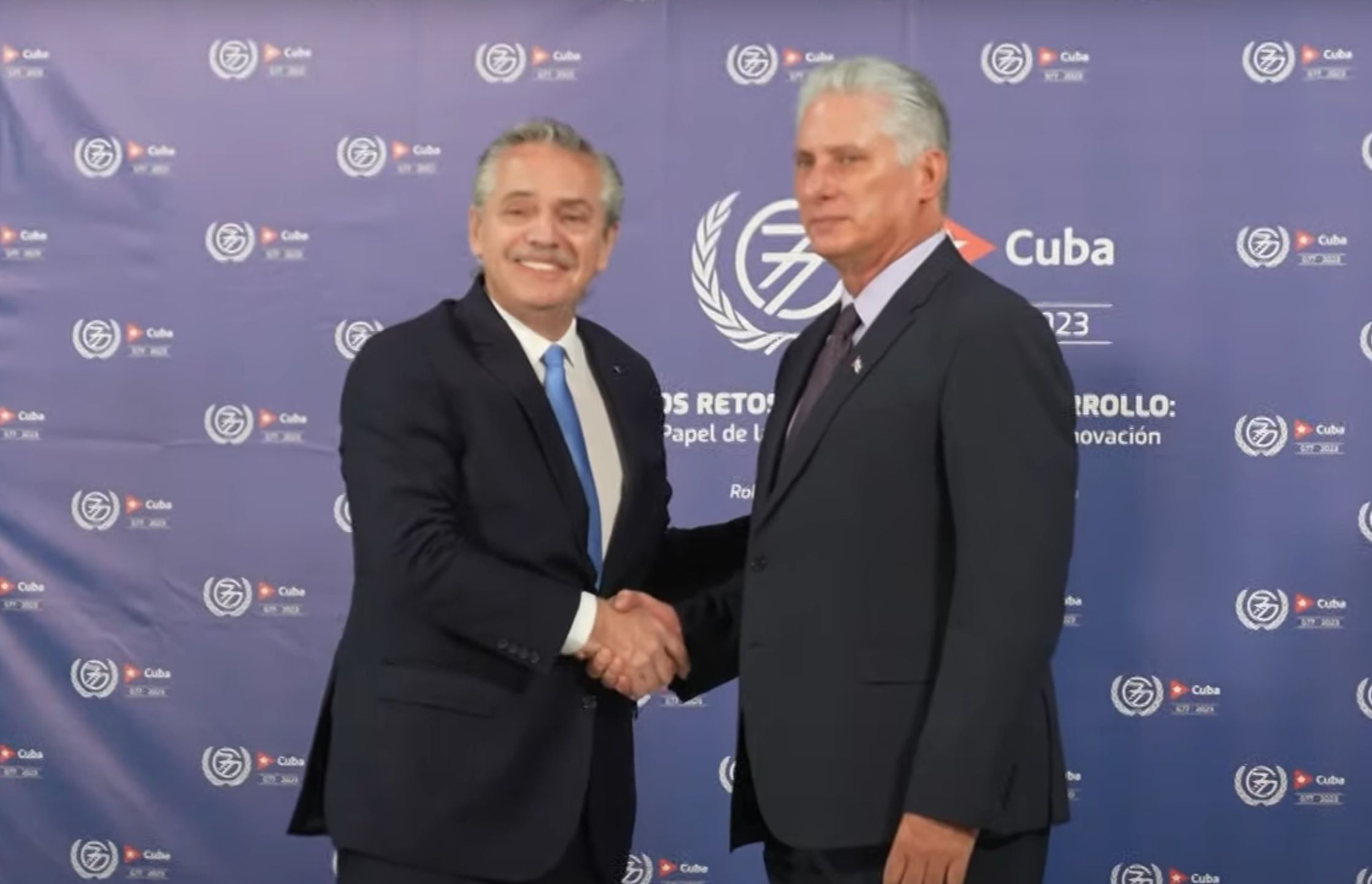 Arentina President Alberto Fernández being greeted by President of Cuba Miguel Diaz-Canel
EIR

LEAD

EDITORIAL

FOR

SATURDAY

SEPTEMBER

16, 2023

Sept. 15, 2023 (EIRNS)—Today was the first of the two-day Summit of the G77+China, meeting in Havana, chaired for 2023 by Cuba, whose Foreign Minister said in advance of the gathering that there will be "a call for a new economic world order." Minister Bruno Rodriguez said on Sept. 15 to reporters that the Summit statement will underscore "the right to development in an increasingly exclusive, unfair, unjust and plundering international order."

There are reports that some 30 heads of state and government are among the delegations, and that from most, if not all of the 130 member nations of the G77+China sent delegations. This Havana Summit of the G77, which was founded in the 1960s, now serves as a platform to add to the momentum of the Global Majority for a new world economic order, which means conditions for security for all. It is noteworthy that one of the world's most pressing problems is the "deficit of development," in the view expressed today to CGTN by UN General Assembly President Dennis Francis (Trinidad and Tobago), speaking about the upcoming General Debate that starts on Sept. 19.

There is a telling irony that the current G77+China Summit is in Cuba, which has been under sanctions since 1962 from the United States, which has not deviated in 60 years from its foreign policy of coercion and punishment. Sanctions, military threats, economic warfare and other aggressions have come to be the defining behavior of the Global NATO alignment against the world's nations in recent decades.

In the last 24 hours, the United States has issued dozens of new sanctions against entities and individuals in Iran, Türkiye, Georgia and the U.A.E., as well as new sanctions against Russia. Barely a day after President Putin's speech at the plenary of the Eastern Economic Forum in Vladivostok on Sept. 12, where he said that developing the Far East and North of Russia were his nation's priority for the 21st century, U.S. Secretary of State Tony Blinken issued a statement, along with 150 sanctions, which included targeting of individuals and entities involved in this region's economy. Blinken stated, "As part of today's action, the U.S. government is targeting individuals and entities engaged in sanctions evasion and circumvention … and those responsible for bolstering Russia's future energy production."

However, there is no turning back the tide of humanity coming in for economic development and progress. Whatever its specific deliberations this weekend, the Group of 77+China represents 80% of the world's population.

The present danger comes from the cornered Global NATO nations bent on more and more provocative actions, to the point of triggering nuclear annihilation. One expression of the escalating danger is the fact that so many European nations have lined up to acquire the U.S.-manufactured F-35 stealth jet, a nuclear-capable fighter craft. This means that all these nations will at some near point be "nuclear capable"—with trained pilots and support systems for nuclear arms. This will be unlike before, when there were different aircraft, and only five European nations with nuclear arms. One deluded description of this is that it will provide enhanced "nuclear credibility" for deterrence, when in fact, it will provide enhanced likelihood for nuclear obliteration.

These prospects must be stopped. The world needs volunteer, self-appointed ambassadors for the new world economic and security framework now under discussion in Havana. Join up with the Schiller Institute.
AFPPIX
Handout picture released by the Argentine Presidency showing Argentina's President Alberto Fernandez (L) delivering a speech during the G77+China Summit at the Convention Palace in Havana on September 15, 2023.