EIR

LEAD

EDITORIAL

FOR

FRIDAY

SEPTEMBER

1, 2023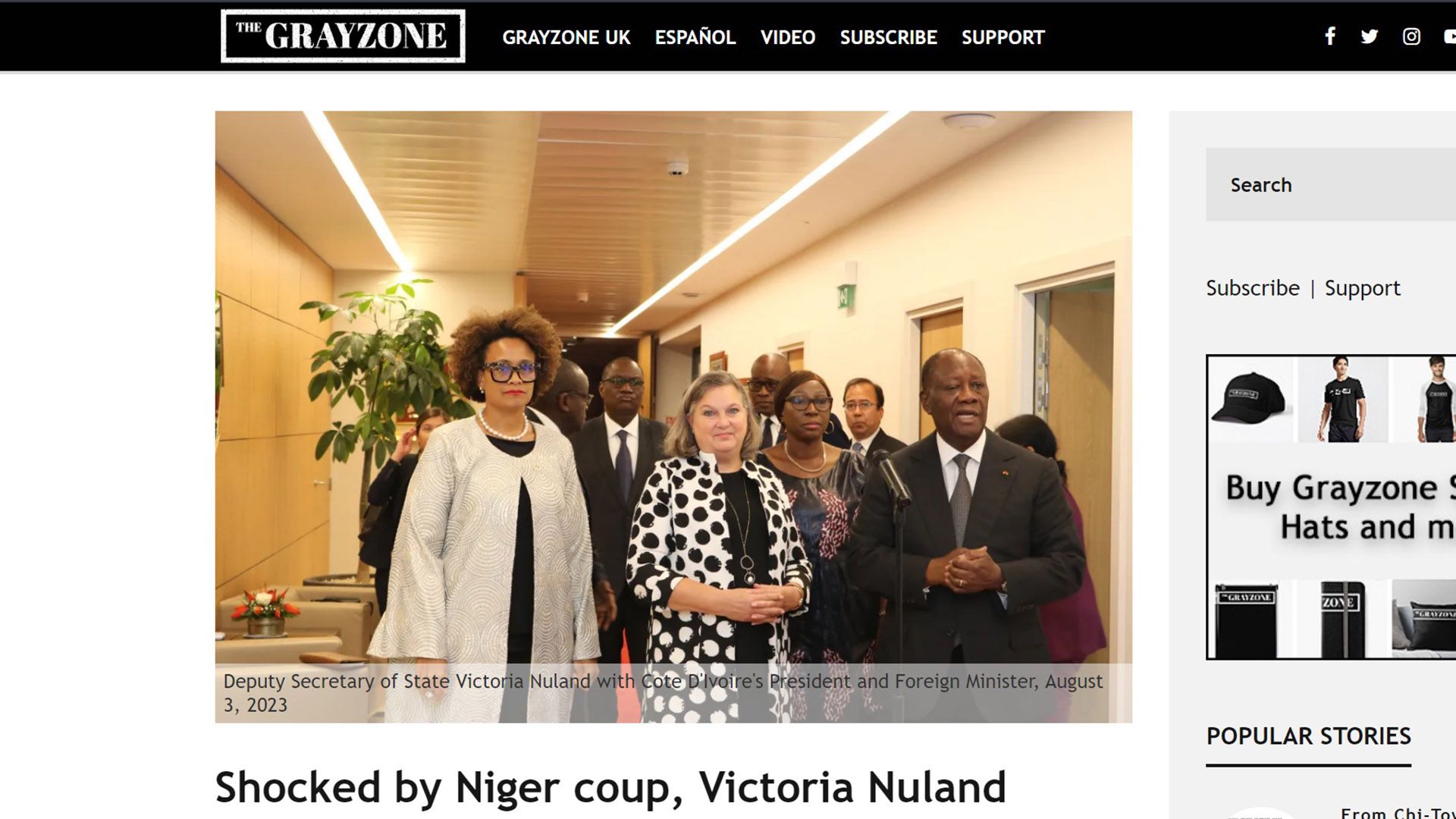 *Deputy Secretary of State Victoria Nuland with Cote D'Ivoire's President and Foreign Minister, August 3, 2023
Aug. 31, 2023, 2022 (EIRNS)—A report from Grayzone's Anya Parampil sums up the situation in the world today. Parampil, who covered the BRICS Summit in Johannesburg last week, spoke to a diplomat from host nation South Africa who had met with Acting U.S. Deputy Secretary of State Victoria Nuland during her July 29-Aug. 1 visit to South Africa. The diplomat, reported Parampil, said that "Nuland and her team were demonstrably unprepared to grapple with recent developments on the African continent," and she quoted the diplomat that, " 'In over 20 years working with the Americans, I have never seen them so desperate.' " The diplomat was, on one level, referring to the military coup that had occurred in Niger on July 26, but was certainly referring more broadly to the significant shift underway across the Global South and across the world. That sentiment was best reflected at the Aug. 22-24 BRICS Summit, which took a major step towards a new global architecture, focused primarily on the development of nations and a renewed determination to never again be subjected to geopolitical or colonialist machinations.
In such a world, it is no wonder that Anglo-American geopoliticians are feeling a little desperate.
The same sentiment was also voiced by Hungarian Prime Minister Viktor Orbán in an Aug. 22 interview with Tucker Carlson, who insisted that a Ukrainian victory over Russia is "a lie, it's impossible," and that instead a "new security architecture" with Russia is required to attain peace in Europe into the future. When questioned about the difficulty of going against the U.S. on that issue, Orbán reflected his germ of a new idea. Of course it's better for Hungary to have good relations with the U.S., he said: "It's a far nicer horizon to have a good relation, but even without that we can stand and we can survive, and we can grow."
Consider also Afghanistan's new set of contracts signed for mineral extraction and processing—the largest since the Taliban took over in 2021. A nation that previously had been crushed under the weight of NATO's and Dope Inc.'s twin policies of death, but which has now nearly banned its opium production. "This will create thousands of jobs and significantly improve the economic situation of the country," said Deputy Prime Minister for Economic Affairs Mullah Abdul Ghani Baradar Aug. 31.
At the same time, it would be foolish to think that those who believe the world is theirs to control will simply relinquish that thought easily. Remember, this is the stuff that world wars are fought over, and very likely could ignite a thermonuclear World War III today. As the Anglo-American imperialists become more and more desperate—especially as they see the Ukrainian counteroffensive as a flop—expect them to ignite new crisis points.
That now appears to be the plan in regard to Crimea. Today, the head of the Defense Forces of Ukraine South press office indicated that the Crimea "resistance movement is working" to further disrupt water and energy supplies, exacerbating the humanitarian crisis. Virtually all targets in Crimea are legitimate for destruction, she said. Remember the June bombing of Kakhovka Dam, whose reservoir is the clean water source for Crimea, which is now becoming an emergency nearly three months later.
Tensions are also escalating on the Korean Peninsula and around China, as efforts mount to build a NATO-of-the-East. There are even U.S. moves to treat Taiwan as a fully independent country by using a new military assistance program. Far from "defending democracy" these actions are further pushing China into an overt military crisis.
The world is clearly at a moment of great transformation, where ideas—such as expressed at last week's BRICS Summit—possess an unusually large power to change peoples and nations. This is the task before the historic individual, like yourself, today, to learn to wield actual and potent ideas, and deploy them in a meaningful way.
Towards this end, the Sept. 9 Schiller Institute conference will be a nodal point that everyone sentient should attend.